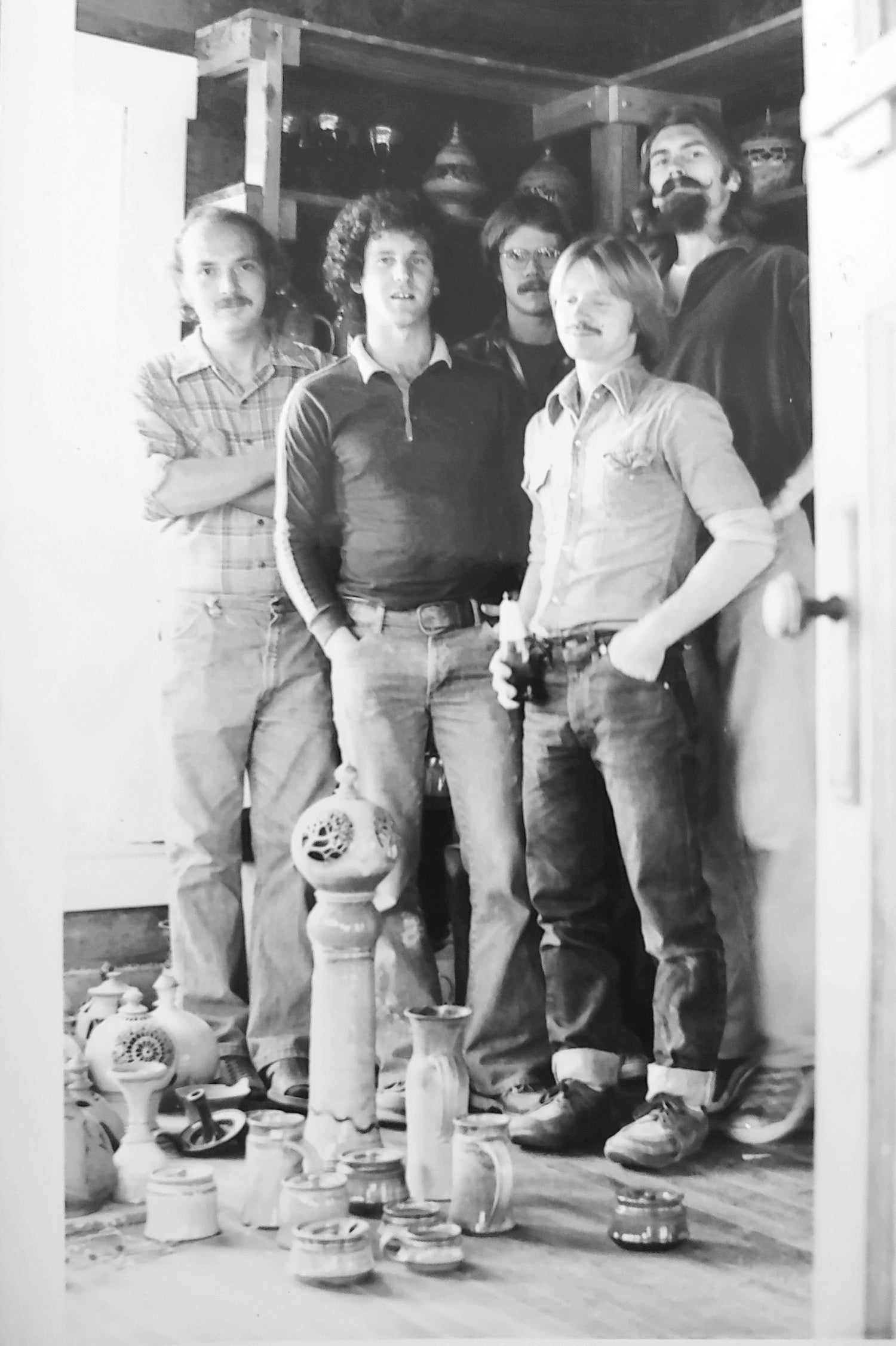 In the beginning
In 1979 John Foelber (Fel-ber) started renting the building at 706 Richmond Ave. after moving his pottery studio from Spring Green, Wisconsin. For about 7 years his main income was from art festivals throughout southeastern United States. He became known for his one-of-a-kind carved lanterns and hired a team of artists to help with production. The lanterns were even sold at Foley's Department stores in the early 1980s.

In the mid 1980's the oil bust hit Houston hard and art festivals were no longer a successful way to make a living. John began renting out studio space and teaching pottery classes to supplement his income.

The original look of the gallery

Outdoor art festival circa 1980

Carved lanterns in production
About this time Judy Adams moved to Houston newly graduated with a BFA in ceramics and a BA in art education. She walked in the studio in the spring of 1985 and began renting studio space.
For about 7 years she worked as an art teacher and after-school director at local schools.For the next few years John and the group of studio potters formed a co-op to help pay bills and pushed the gallery forward as a destination for fine, handcrafted, local ceramics. The economy was making a slow, meager recovery yet this hard-working band of artists was able to stay afloat and have fun together. John Foelber and Judy Adams were married in 1987 (and still going strong!)
Laguna Gloria Art Fest, Austin

Jamming at an old icehouse

Gallery show/parenthood 1996
In 1992 the owner of 706 and 702 Richmond Ave. gave up the properties for foreclosure and John and Judy put up all of their savings (and some family loans) to pay for the parcel. It was a big move but they could not imagine losing this location after more than a decade of business. 
Since then the ebb and flow of life has seen the studio potter friends move on with various pursuits, pottery classes grow (more than 100+ students a week) then stop during Covid (scary for anyone self-employed), new kilns, new roofs (thanks Hurricane Ike), new gallery artists, volunteer opportunities, and mentoring possibilities.
Oh yeah, and a couple of children to raise along the way. Our biggest success story is seeing these two little humans become such amazing adults.  That has been the greatest blessing of all.
It has been and still is an incredible journey. We thank all of you who have and continue to support us and all local artists. Here's to the 40+ year journey and beyond!